Luggage storage at Gare de Paris-Saint-Lazare
15/10/2020
Jean-François FONCIN
CITY-LOCKER
The Gare Saint-Lazare is one of the many stations that do not have luggage storage. You get off the train at Paris-Saint-Lazare station for a day of shopping in the center of Paris, but your luggage clutters you to fully enjoy your day.
Saint-Lazare station
Trainstation St-Lazare is considered to be one of the 6 largest stations in Paris. It is located in the 8th arrondissement. It is the 3rd station in Paris in terms of traffic with more than 100 million travelers per year. Gare de St-Lazare is a real crossroads, because it is possible to take a multitude of metro lines, two RER lines, but also the terminus of the TER and Intercity trains.
Are there luggage lockers at Saint-Lazare train station?
Despite all its qualities, the Gare Saint-Lazare does not have its own luggage storage.
When you arrive at Gare Saint-Lazare, you want to leave your luggage in the luggage lockers in order to enjoy the beauty of the capital in all lightness. If it is not possible to drop off your luggage directly at the station, you can do so in the surrounding lockers.
Good to know: Access to the largest shops in the 8th arrondissement, with your luggage, is prohibited. It is therefore strongly recommended to leave your luggage in lockers.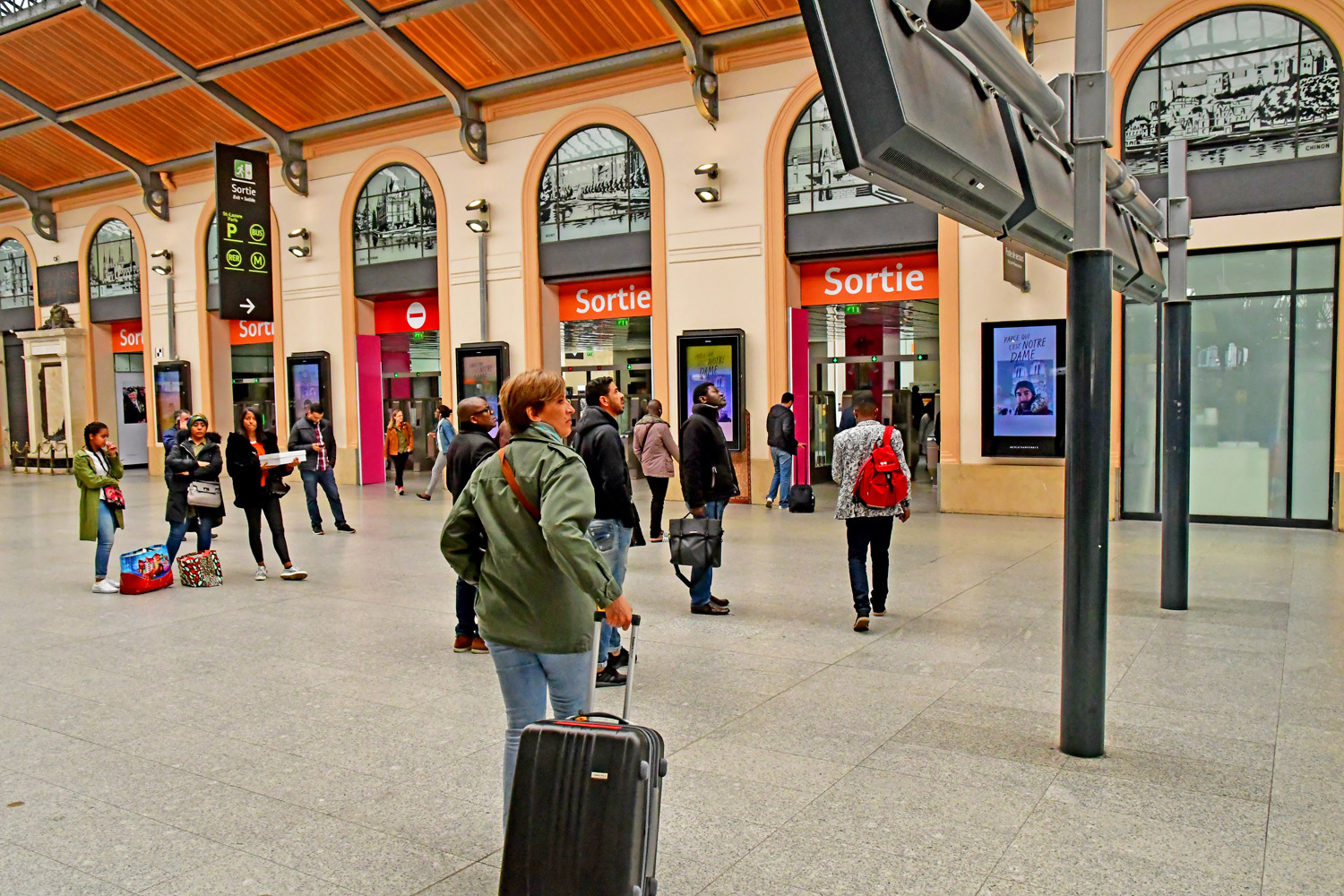 Book a left-luggage office for Gare Saint-Lazare
You will find automatic lockers a 6-minute walk from Gare Saint Lazare. Reserve your left-luggage office online 24/7, for a rate of € 9 per day (decreasing rate for several days).
Your locker is secured by a code sent when you make your reservation, by SMS and by email when your Gare Saint-Lazare locker reservation.
The locker is free to access, and you can freely access your luggage, in complete independence, from 8 a.m. to 10 p.m., as many times as you wish. Luggage lockers are insured against damage or theft and are under permanent video surveillance.
What should I do once my things are left in the locker?
Departing from Saint-Lazare station, in the 8th arrondissement, here are the main places of interest:
7 minutes by foot: Le Printemps. Open Monday to Saturday, 9:30 am to 8 pm
9 minutes on foot: Galeries Lafayette
9 minutes on foot: Eglise la Madeleine, open every day from 9:30 am to 7 pm
11 minutes on foot: the Palais Garnier or the Opéra national de Paris
12 minutes on foot: the Fragonard perfume museum
The Galeries Lafayette
9 minutes after exiting Gare St-Lazarre, take the opportunity to do your shopping at Galeries Lafayette, a globally recognized brand for shopping lovers!
For 120 years, Galeries Lafayette has offered hundreds of major brands of clothing, jewelry and leather goods in one place.
The Galeries Lafayette also offer you a Gourmet space, the best of gastronomy is offered to you in the middle of your shopping.
Open from 11 a.m. to 8 p.m. Monday to Saturday and from 11 a.m. to 7 p.m. on Sunday.
The Gourmet space is open from 10 a.m. to 8 p.m. Monday to Saturday and from 11 a.m. to 7 p.m. on Sunday.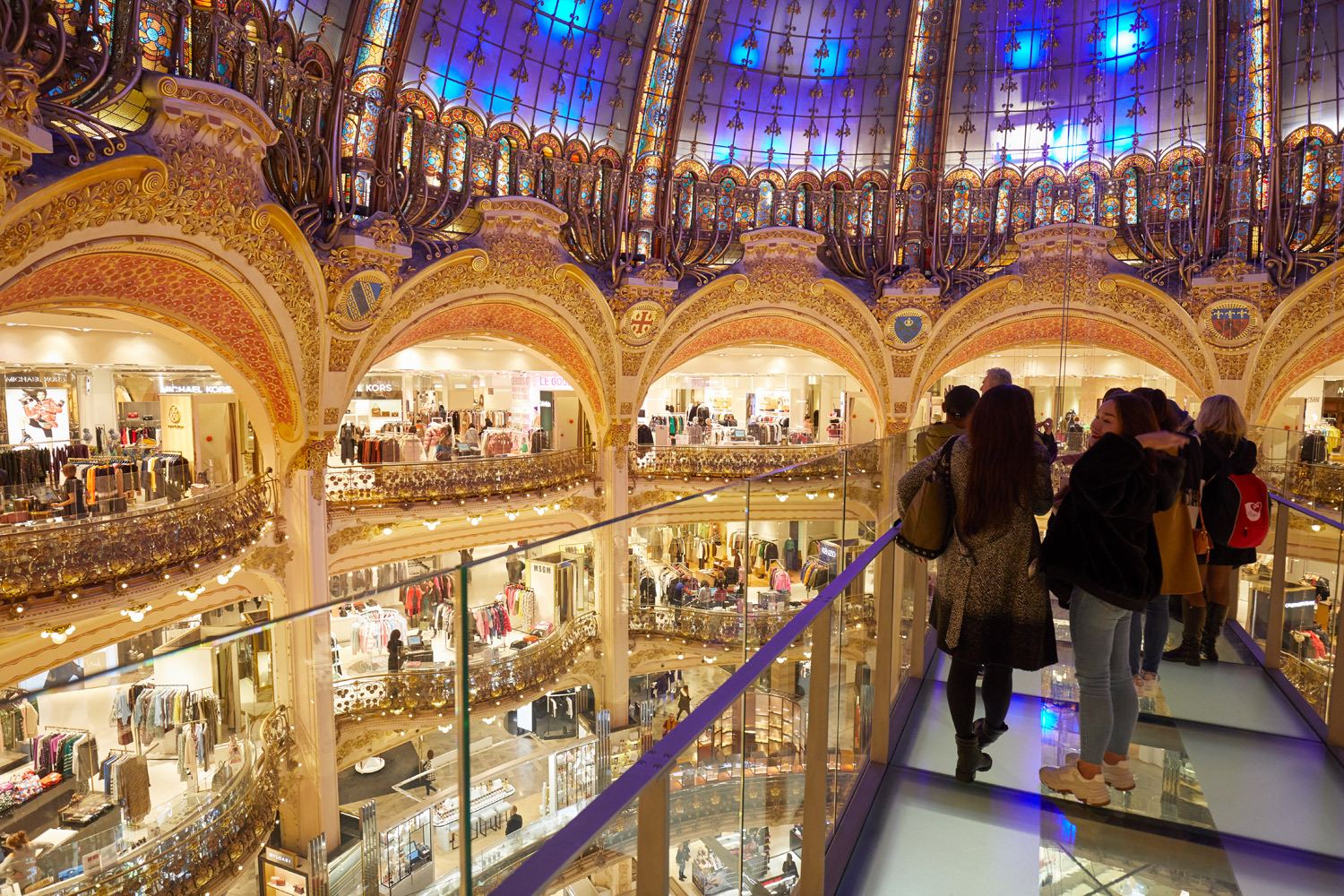 Le Printemps
The "Printemps" store offers 9 floors with 45,500 m² totally dedicated to your shopping. You are at the heart of Parisian shopping!
All the major ready-to-wear brands are grouped there. Le Printemps notably offers a rooftop, where you can eat, ideal in summer.
Printemps is open Monday to Sunday from 10 a.m. to 8 p.m.
Palais Garnier / Opera national de Paris
Come and visit the Palais Garnier (or Opéra Garnier) and contemplate this masterpiece of 19th century theatrical architecture. Your entrance ticket gives access to temporary exhibitions when they are present. Visits are possible with a multimedia guide, a guided tour is also available.
Full price: € 14 / Reduced price: € 10 / Free for children under 12.
Madeleine Church
Visit the Parish of the Madeleine in free access from 9:30 am to 7 pm.
This church from 1842 in the Neoclassical style, designed by Napoleon I, like a Greek temple, was dedicated to the glory of his Grand Army.
It is a magnificent building surrounded by 52 Corinthian columns, worthy of the most beautiful temples of Olympus in the center of Paris.
Fragonard Perfumery Museum
The Musée de la parfumerie Fragonard offers you a unique olfactory journey to Paris.
A guided tour is offered to you to discover all the secrets of perfume making since 1926, when Fragonard was made.
The museum also offers to retrace the entire history of perfume from ancient Egypt to today. Test your olfactory abilities throughout the visit, thanks to the activities offered.
Open Monday to Saturday from 10 a.m. to 7 p.m.