F.A.Q.
Your questions about our luggage lockers in Paris
Are the lockers cleaned regularly?
Our lockers, as well as the premises are cleaned and disinfected several times a week by our maintenance staff.
What are you opening hours?
We are open from 8 AM to 10 PM 7 days a week.
How can I book my locker?
Is there any delay to respect for booking?
You can book online 24/24 - 7/7. You must book as soon as possible to be sure to get a locker.
Is my booking a 24 hours booking?
No, your booking is valid from 8:00 am to 10:00pm.
What are the prices ?
The price is €12.00/day/locker for 1 day rent (8am – 10pm). (€15.00 / day on weekends and holidays)
For reservations of several days the prices are decreasing. Some days benefit from promotions, going down to 2 €/day.
What is the size of the locker?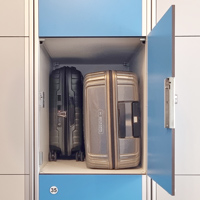 The size is:
Feet: 1.57 x 2 x 2.79
Inches : 18 x 24 x 33.46
Centimers : 48 x 61 x 85
This size is suitable for most suitcases. Be sure to check the size of your luggage before booking. There will be no refund.
Is there a maximum weight?
Maximum weight 30 kgs (66 pounds)/locker.
Can I get a refund for my reservation if I have COVID-19?
We remind you that the fact of having contracted COVID (or any other disease) does not constitute a reason for reimbursement, in accordance with our General Conditions of Sale.
Can I get a refund for my reservation or postpone my reservation to a later date?
As indicated in the General Conditions of Sale and in accordance with the provisions of Article L. 221-28-12° of the Consumer Code, reservations are neither exchangeable nor refundable. Only a closure at the initiative of CITY-LOCKER, caused by a technical incident or a case of force majeure, can give rise to a refund or postponement.
Are my luggage covered by an insurance?
They are by an insurance that covers certain incidents occurring to Luggage (material damage to the Luggage and its contents, breakage, loss/destruction, theft) that may arise during storage, to the exclusion of all other incidents and according to our general terms and conditions of sales.
When do I receive my code to enter city-locker and to open my locker?
The codes are sent to you by email and text message (SMS) when your booking is confirmed.
The access codes are changed daily as well as the codes to open the locker to ensure the maximum safety and prevent your locker is used by someone else.
When can I collect my luggage?
You can enter as many times as you want during the day of your booking. No need to pay again.
I have lost my code; what can I do?
We will resend them to you upon request by email to contact@citylocker.paris.
Please give us the following information : Your name, Reservation date and cell/mobile number
How many days I can book?
Yon can book for a maximum of 14 days. For more please contact us.
I have not received my code by mail, what can I do?
I'd like to extend my booking, what can I do?