The Orsay Museum
14/07/2022
Jean-François FONCIN
CITY-LOCKER
The Musée d'Orsay takes its name from the location on which it is located, namely the Quai d'Orsay, so named in honor of Charles Boucher, Provost of the Merchants, who had this building built. platform. The Orsay Museum is located on the site of the Palais d'Orsay which was built in 1810 and which housed the Court of Accounts and the Council of State. The Palace was burnt down during the Paris Commune in 1871 and was left in ruins. In 1900, Victor Laloux built the Gare d'Orsay there, which served as a terminus for the railway company from Paris to Orléans to welcome visitors to the Universal Exhibition.
History
In 1985, the forecourt was decorated with several statues, including statues of the 6 continents and 3 cast iron animal statues.
The Musée d'Orsay was inaugurated on December 9, 1986, by François Mitterrand, to follow up on the wishes of Valéry Giscard D'Estain who wanted to reconfigure the station into a museum.
In 2010, the Musée de l'Orangerie became legally attached to the Orsay Museum. The name of the former President of the Republic was added to the name of the museum in 2021 in order to pay homage to him. The museum has since been called the Orsay Museum et de l'Orangerie – Valéry Giscard d'Estain.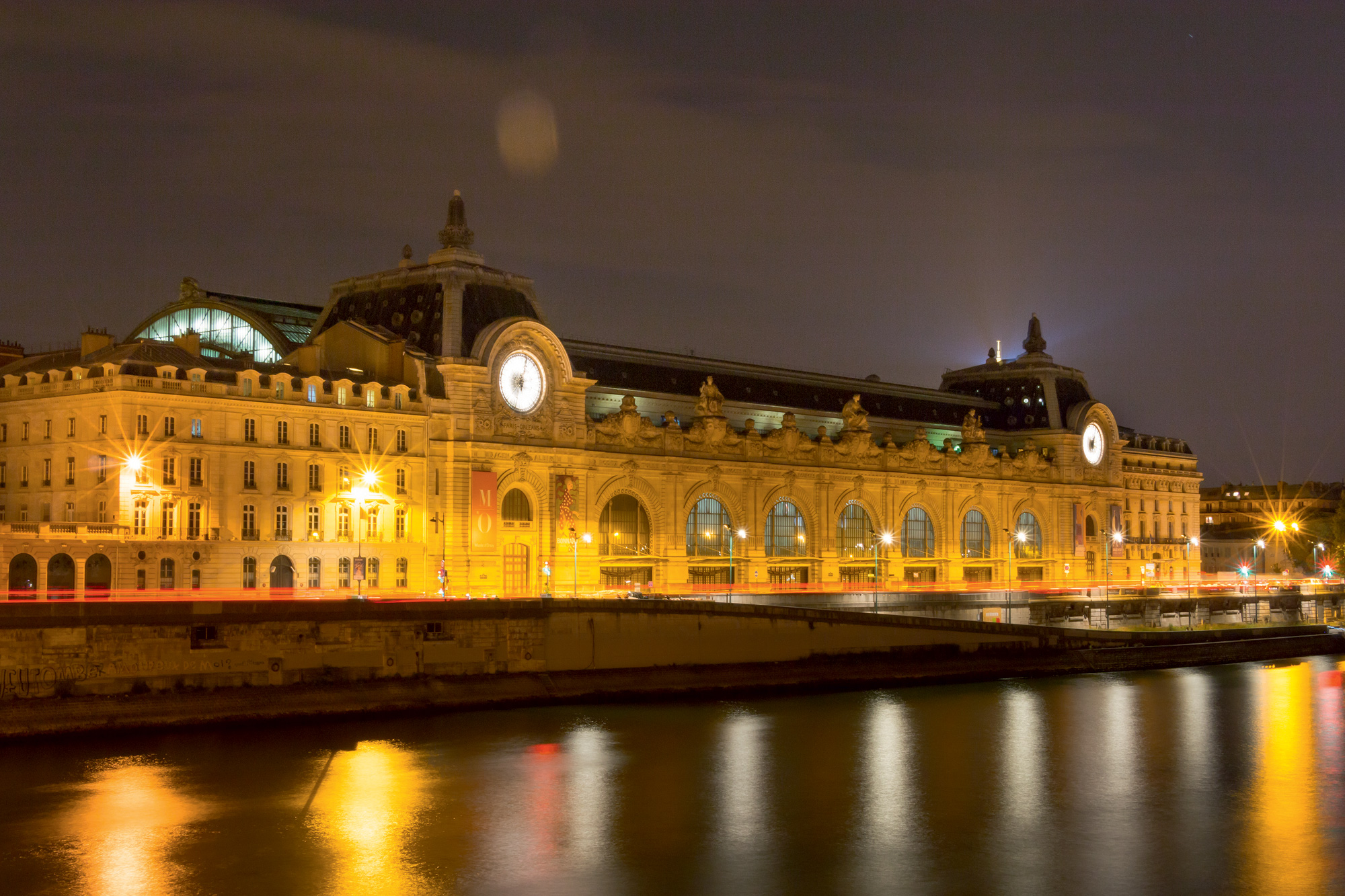 An "impressive" collection
The collections of the Orsay Museum represent, all techniques combined, more than 15,0000 works.
The largest collection of Impressionist and post-Impressionist paintings in the world is exhibited and preserved at the Musée d'Orsay. It has more than 480 impressionist paintings and more than 600 post-impressionist. In all the painting collection is made up of more than 5.190 paintings.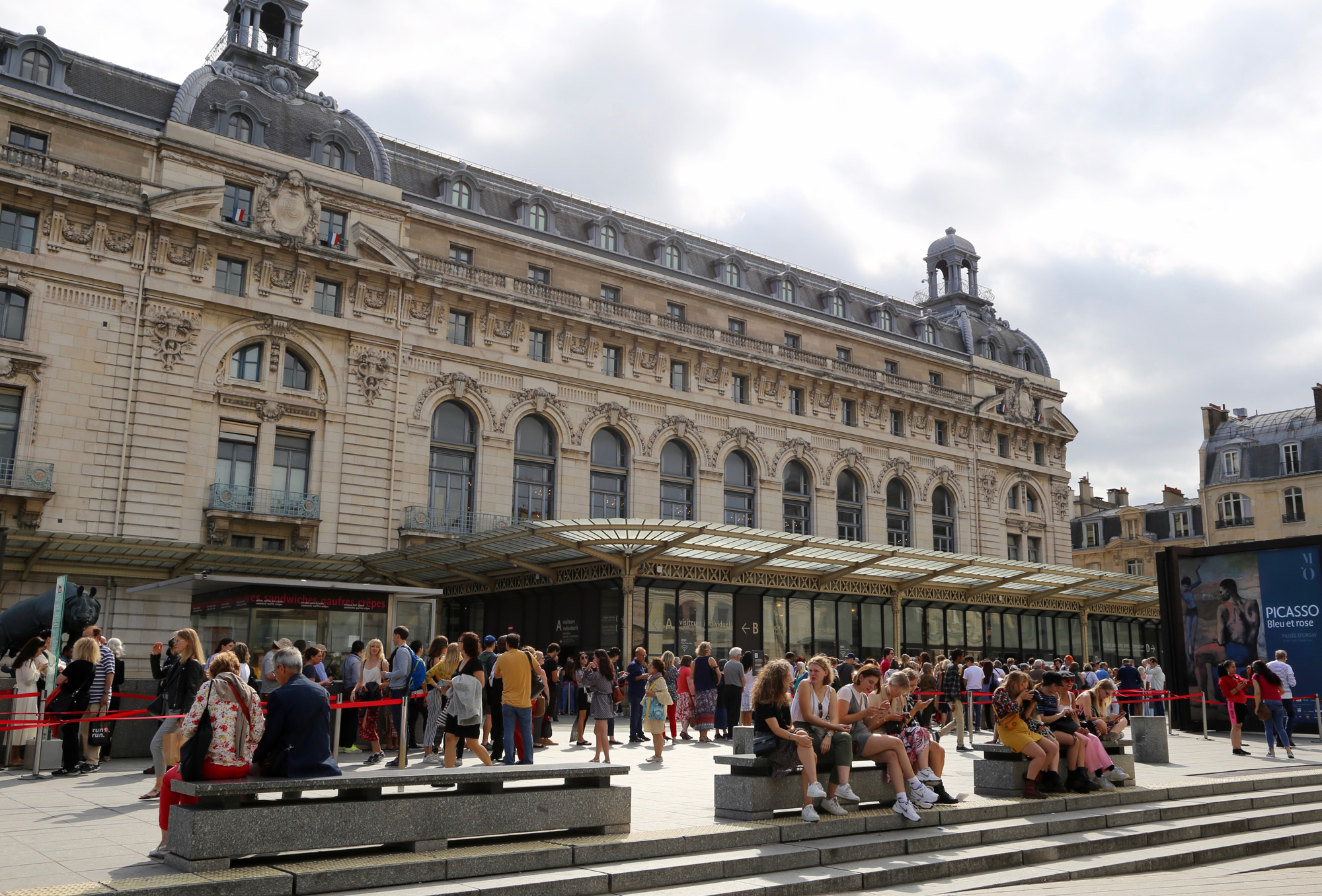 Collection of impressionist and post-impressionist paintings
The biggest names are exhibited or kept at the Musée d'Orsay:
Gustave Courbet with 32 paintings including the best known "The Origin of the World" but also "the source", "the painter's studio"...
Paul Cézanne with 45 paintings including "the card players", "Montagne Sainte-Victoire", "Point de Maincy", "the blue vase"…
Camille Corot with 23 paintings including "The Dance of the Nymphs", "Le matin. Cowherd» …
Edgar Degas with 42 paintings and 47 pastels including "L'Absinthe", "La Famille Bellelli", "La Classe de danse"
Paul Gauguin with 21 paintings, 2 stained glass windows and 3 pastels including "Women of Tahiti", "Self-portrait with yellow Christ"
Édouard Manet with 33 paintings and 11 pastels including "Le Déjeuner sur l'herbe", "Olympia", "Portrait of Émile Zola"…
Claude Monet with 70 paintings and 1 pastel with "La Pie", "La Gare Saint-Lazare" "London" "Nymphéa" 5 paintings from the "Cathedrales of Rouen" series… it is is one of the largest Monet collections in the world
Pierre Auguste Renoir with 64 paintings and 4 pastels including "Bal du moulin de la Galette", "La Balançoire" ", The boy with the cat"…
Henri de Toulouse Lautrec with 20 paintings including the 2 panels "La baraque de la Goulue", "le Lit", "Rousse (la toilette)"…
Vincent Van Gogh with 24 paintings including "Portrait of the Artist", "The Church of Auvers-sur-Oise", "L'Arlésienne", "Van Gogh's Bedroom in Arles"…
The sculpture collection includes more than 1,600 works ranging from Neoclassicism, Romanticism, Second Empire Eclecticism to Realism.
The Photographs collection has more than 45,000 works. It was one of the first museums to create a photography section.
Opening hours
Tuesday to Sunday: 9:30 a.m. – 6:00 p.m.
Thursday: 10:00 a.m. – 9:45 p.m.
Saturday and Sunday: 10 a.m. – 6 p.m.
Closed Mondays, May 1 and December 25
Access
Address : Esplanade Valéry Giscard d'Estaing, 75007 PARIS
Metro :

Line 12 : Station Solférino

Bus :

Line 63 : Station Solférino Bellechasse
Line 68 : Station Musée Orsay
Line 69 : Station Musée Orsay
Line 73 : Station Musée Orsay
Line 83 : Station Solférino Bellechasse
Line 84 : Station Solférino Bellechasse
Line 87 : Station Henry de Montherlant
Line 94 : Station Solférino Bellechasse

Bike :

Vélib station 6012 : 141, Boulevard Saint Germain, 75006 Paris
Vélib station 7005 : 5, Boulevard Raspail, 75007 Paris
Vélib station 7006 : 11 ,Quai Voltaire, 75007 Paris
Vélib station 7007 : 62, Rue de Lille, 75007 Paris

Car :

Parking Carrousel du Louvre 1, Avenue du Général Lemonnier, 75001 Paris
Parking Bac Montalembert 9, Rue de Montalembert, 75007 Paris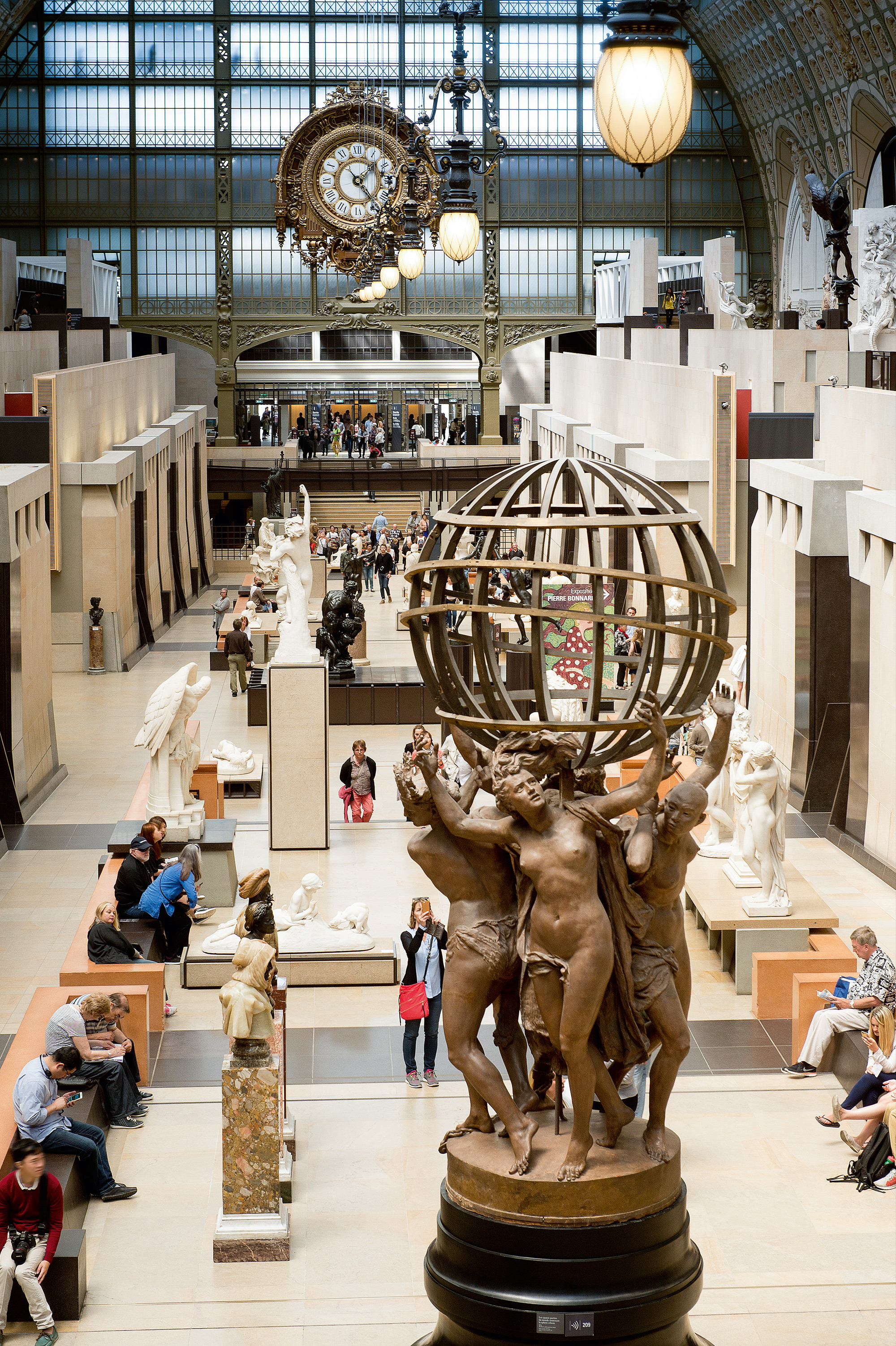 Prices
| | Online sale | Sale on site |
| --- | --- | --- |
| Full price | 16€ | 14€ |
| Reduced price | 13€ | 11€ |
Buying a ticket online gives priority access within half an hour of the booked time.
Closest CITY-LOCKER
CITY-LOCKER Tour Eiffel - 29, Rue de l'Exposition, 75007 Paris / CITY-LOCKER Opéra - 33, Rue Godot de Mauroy, 75009 Paris